We turn on the radio to listen to our favorite DJ in hopes that they will play our favorite song, give us the news we need, or entertain us as we go through our daily lives. We connect with their stories, we laugh at their jokes, we become attached to them. But what do we really know about them? Probably not as much as we think we do. 
Our voice, in the afternoon here in the Central New York area of Syracuse/Utica, is a long standing DJ who, on the air, goes by the name Rainman. He talks about what is trending in sports, music, and on the web while spinning a mix of old and new rock. I personally have been listening to his show since I moved to the area about 8 years ago, and have recently communicated with him either via social media or when I have had to call into the studio to win tickets to shows they are sponsoring. From the times I have talked to him, and a few things he has said live on the air, I got a sense of who Rainman might be beyond his radio personality. He seemed to be a very caring person who loves his hometown and those that live in it. These qualities, and a curiousity of what a DJ does behind the scenes, is what drove me to ask him if he would mind talking with me. 
 I will have to say that interviewing someone who is such a seasoned veteran of radio and interviewing so many artists is a bit daunting for someone like myself, who is just getting into interviewing. But, when we sat down, he was understanding, very personable, and made me feel very welcome as we talked about being a DJ, the insanely amazing tour schedule this summer, inspiration, and much more.
How long have you worked at Krock, and did you start out as a DJ, or did you intern prior to becoming one?
20 years now. I interned when I was 16, although it wasn't officially an internship. My mother's friend, her daughter was a DJ for this company, before it was bought by it's current owner. She allowed me to come to the studio and showed me a few things. I then went to HCCC for it then had to leave school when I found out I was going to be a father, and then got back into it a few months later. I interned for three weeks, they hired me full time. I did nights for a few months and then have done afternoons ever since.
I took a year off about 15 years ago, and when I came back I actually worked for Clear Channel in Syracuse. Then my current owner contacted me and asked what it would take (to work for him). We negotiated and I have been here ever since. I have never left because I can raise my kids around their family, and I still do what I love. This is my hometown and I have some pride in it.
Besides the four hours that we hear you on the air, what does your typical day like at Krock? 
For me, being salary and not having to punch a clock, I do some work at home to start my day. I have a digital recording system on my computer, so I jump online around feeding the kids and download a bunch of audio, put together a PDF of news stories and throw it on a USB and bring it into work. I come in here (the studio) and filter through what I want to play: the audio I want to play, the stories I want to talk about. I cater some of it to Syracuse, some of it to Utica, some go on both. I have to flip through social media for Syracuse and Utica so I can tailor stuff that way. I spend time producing commercials, images (the audio you hear in between the songs), planning events, sitting down in meetings, meeting clients that may be in the building. And that is just the basics. It's a very constantly evolving and changing medium. I spend a lot of time on social media seeing what is trending, promoting, interacting…it's all part of the job now. It's also archiving content and posting then on demand.
I also spend time preparing for my ESPN show that I do. I have to work on that almost everyday because some of the people I work with on it work here, but only part time. We will sit down for ten minutes when we can to hash out ideas about stories that we want to talk about. In the fall and spring I host a Comets show on ESPN, so I spend a lot of time interacting with the Comets also. Scoop from WOUR is my cohost for that. Even in the off season we talk about it, so we can keep up with the player transactions, and the direction of the team, and so on. That is the medium length answer to the question.
You had mentioned that you cater shows to Syracuse and Utica. Krock is one of those unique stations that is broadcast in two separate areas. Do you have separate broadcasts for each area?
It is two separate broadcasts, and I can control both from here, or in Syracuse if I am broadcasting from there.
How are you able to coordinate the shows and keep them separate?
You see those two stacks of papers and notes (points toward two piles of paperwork sitting in front of his monitors)? Those are show maps. I basically jot down a list from 3-7 of ideas that I want to talk about for Syracuse and for Utica. I keep it separate and bounce back and forth. With the technology, I can voice track so I can talk live in Syracuse and I can record my voice a few minutes ahead of time and with a few clicks play it when I want to for Utica. Practice and repetition is probably the number one answer to your question though. When you first start doing it, it really gets overwhelming.
We used to simulcast, but as technology got better, it made it easier to separate the broadcasts. Technology has made it all easier.
That must be hard to keep track of.
Let me tell you, when I leave my head is spinning. The four hours I am on the air is the quickest four hours of my life. It's like a switch flips in your head. And, of course, you will hear mistakes on the air from time to time…everyone here has made them. Human error always plays in at times.
This year seems like the best year for concerts coming to Central New York, even to Utica with acts like Halestorm, Summerland Tour, Dropkick Murphys. What do you think has made it such an amazing year for big name acts coming to the area? Do you think the new Lakeview Amphitheater had a lot to do with it?
I do, I think Lakeview had a lot to do with it. As far as it applies to Utica, it brought Live Nation, a national concert company to CNY. It costs a lot of money to do these shows, to front these bands, to put these shows on. And then there is the curiosity, because it is a brand new shiny toy. And people are going to have to decide if they like seeing concerts with seats or paying higher prices for drinks. That has spurred on interest along with the Utica Comets arrival and the renovation of the Aud where it is now a desirable venue to play in. Certain things have changed behind the scenes too. Like the Stanley realizing that they need to up their game, and local promoters are trying to do things too, and I think it is all just coming together.
I've said it on the air at least a dozen times that I don't remember a time, even before being a DJ, where there has been a summer like this. And it is great, it is great to see. I am excited to see Halestorm at the Stanley. That is going to be a great show. They are one of the premiere rock bands in the country right now. And you were not seeing shows like that before.
I also want to give credit where it is due to the Matt Family. Saranac Thursdays built into some great shows all the time. What a premiere venue that brought in some great eclectic bands! They helped make Utica a desirable venue. People tend to forget that the people that do these shows, from soundman, to promoters, record reps, and all that are actually a small community and go from one tour to the next. So, as time goes on, and one person is talking about the great experiences they had in this town, going to Saranac, or doing a show at the Aud; they hear that. They say, "Well this band played there and had a great time, or was treated well…maybe this band should play there also." The momentum starts to build and reputation of Utica comes back in the music business.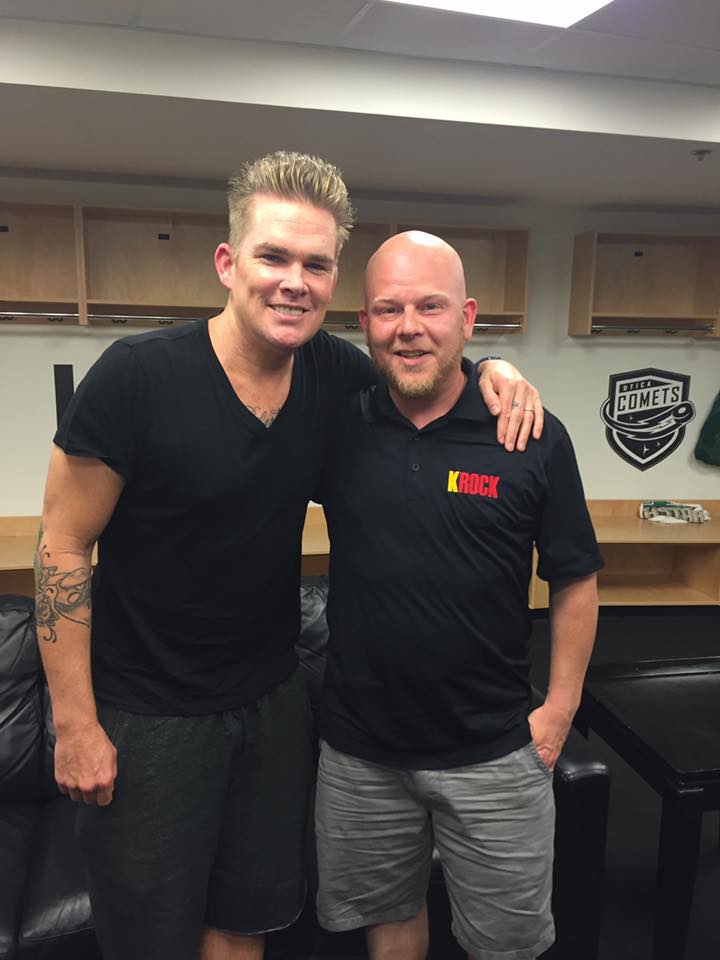 One of the aspects of your job that I find amazing is all of the musicians you get to meet and talk to. What would you say is your craziest interview that you have conducted?
We did have one that was wild, but in the sense of unpredictable. I had Tom Morello once at Krockathon where I had him and Boots, who was the singer of his band, and Shim (lead singer Sick Puppies) walked by…and it ended up being this twelve person interview that started with three of us. It was wild in the fact that it was unpredictable. Everyone forgot the microphone was there. It was just like a bunch of dudes just sitting around drinking coffee and talking about music, about life, and about anything. It was so unpredictable, and it is one of my favorite interviews especially since I respect Tom Morello on levels far beyond music.
Who is the one person that you haven't been able to interview yet that you would love to?
Jerry Cantrell of Alice in Chains is someone I would love to talk to. If Layne Staley was still alive I would have loved to interview him. Billy Joel is someone that I haven't been able to, but would love to. I would love to interview anyone in Metallica…Axl, I would love to pick his brain. He would be a great interview.
A big part of what we do at Don't Let the Music Stop is to try and inspire others. Who would you say has inspired you most in your life?
My grandfather and my Uncle Tommy. This kid, Jet Collins, contacted us a few months ago who was conceived at Krockathon and wanted to find his real father. I never reveal too much about my personal life on the air, just generalities. But I said a bit more with this topic. I had grown up in freakishly similar circumstances, not knowing my birth father. As I grew up, stepping into that role was my mom's sister's husband…my uncle Tom and my grandfather. They just got it…it was about family, being a kind person, treating others with respect. My grandfather was the most honorable, classiest man I have ever met in my entire life. As I grew up and matured, I realized that everything I wanted and strove for as person, whether it was to follow my dreams to be a radio host, and persevering, or not giving up, or being a father, or being a better person or husband everyday. Things that I failed at earlier in life, I followed his wisdom and realized how much I really wanted to be like that. So his guidance, and using him as a role model has made me the person that I am today…without a doubt.
What would you like your listeners out there that might be dealing with difficult situations, or maybe feeling that they can't deal with their situations currently, to know?
Call me…I have had people do it before. People, sometimes are alone, the radio is on, and they hear a voice, they identify with a voice. They feel like they know you, and they reach out to you. They might not necessary divulge what is going on, but they reach out whether it is on the request line or even through social media now. It is as simple as taking one minute, two minutes, five minutes, or even ten minutes (if I have a couple of songs on)…and you talk to them. You help get them in a different frame of mind. I have had people tell me that it helped that they knew I was there, listening. Sometimes that is all people want. Perhaps it's even sharing your own life experience that may help them change their thought process or the way they are looking at things. Or they don't know an escape out of a situation they are in. It could be a variety of things obviously that could be troubling them. But you may offer them a path to better themselves, or climb out of a hole they are in, or escape a bad situation. To answer your question: I am here. I have been here a long time, and if you feel you need to pick up the phone…do, I am human too. If that is all you feel you have right now is to call and talk to me for 90 seconds, then please call or tweet me, or stop me at an event.
I remember this kid about fifteen years ago that called me and he was in a bad place. Somehow I always remember as a kid hearing about suicide prevention lines that sometimes you need to make them promise to call you later. So I told this kid I needed him to call me in a few days. It was a Thursday and I remember telling him, "I am not going to be here Friday, but I will be back on Monday. Make sure you call me after 2:00 and I will answer." I often wondered if what I said helped. At least I know it did for four days. And he called me back and just wanted to talk about music. I remember thinking all weekend that I was going to be really nervous if this kid doesn't call me back. Because I don't know where he is or how to get ahold of him. But he did call, and I will never forget it. Now he is in his early thirties and the most happy go lucky guy you could meet. He has a wife and kids and hugs me every time I run into him.
We have a playlist on Don't Let the Music Stop that is solely comprised of music suggested by those we interview as songs that inspire them or they like to go to when they need a boost. Can you give me a song or two to add to the playlist?
For me it is always going to be Dave Matthews, I don't know if it even a specific song. Sometimes it is just a matter of hitting play and I can go from a bad situation to a very happy person. If I had to pick a song or two I would say: "I'll Back You Up" from his first independent release and lately I have been listening to  "The Riff" quite often, so I would have to say those two…for now.
I would like to thank Krock and Rainman for granting me this interview. You can catch him from 3-7 weekdays on 94.9 in Utica, 100.9 or 106.5 in Syracuse, or http://syracuse.krock.com/ from anywhere. 
If you are a musician, no matter your fan base, and would like to share your story or be interviewed by us, please use the contact form at the top of the page. We would love to hear from you. And if you are someone who has been helped by music in your life, we would love to hear from you also. We can help you share your story, publicly or anonymously. Your story could be the reason someone makes it through another day.
Never give up, never give in. You are needed, you are important.​​ 
Header image courtesy of Krock and Mark McGauley Photography