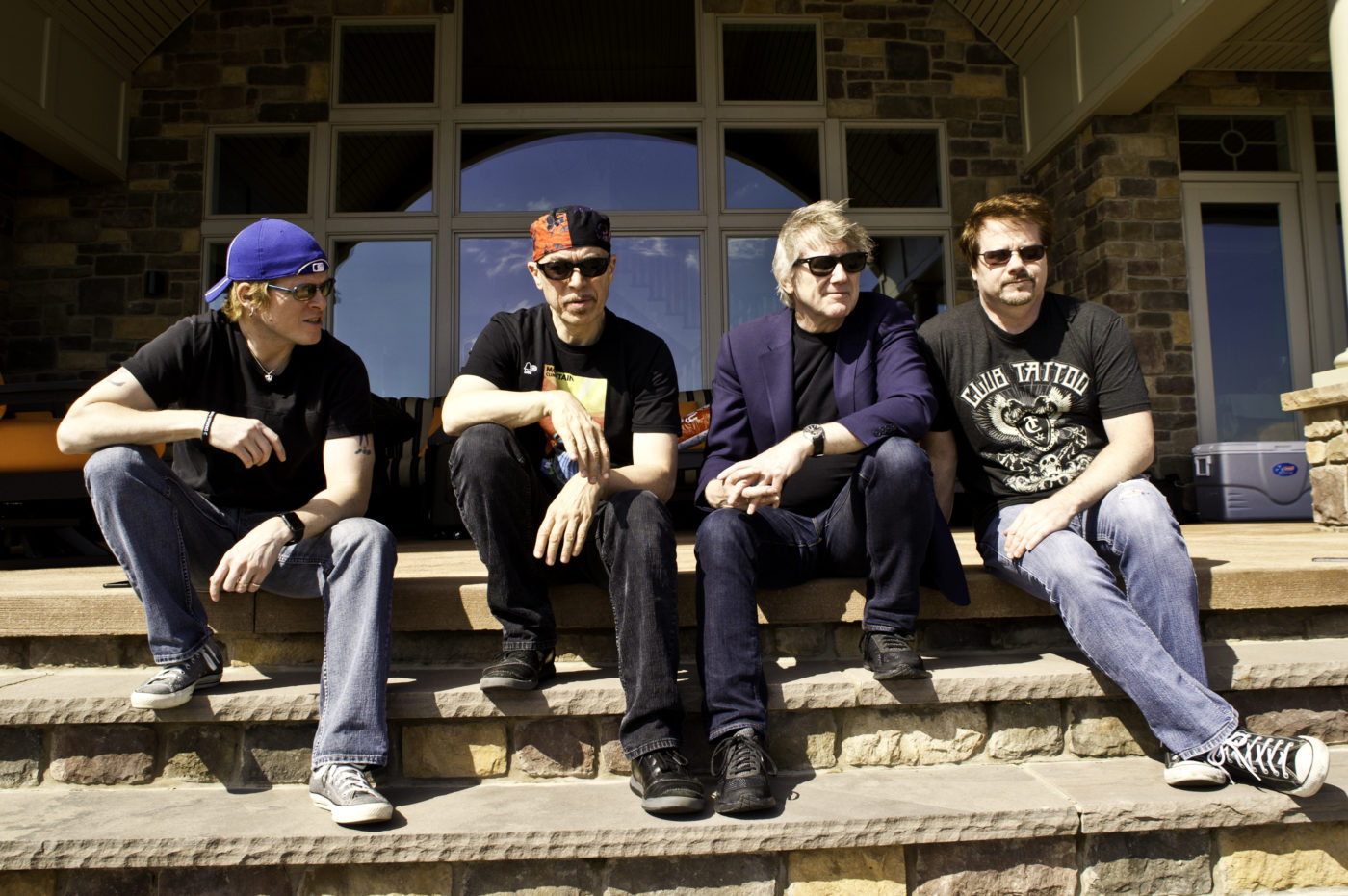 "Music holds the secret, To know it can make you whole. It's not just a game of notes, It's the sound inside your soul." – Hold On by Triumph
When you ask someone to name a Canadian power trio, most will rightfully say, "Rush". But there was another power trio that should come to mind…Triumph. Triumph consisted of Gil Moore on drums/lead vocals, Mike Levine on Bass, and Rik Emmett  handling guitar/lead vocals. When I discovered their music, Triumph had been around for a long time. In fact they had multiple platinum albums, played to millions of fans, and already had an amazing catalog. I had heard some of their popular songs on the rock stations before, but had never really delved too deep into their music. That is until I heard the live album Stages…it completely blew me away. The musicianship and songwriting were astounding, the lyrics were very positive, and the guitar solo was the best I had ever heard. I wore that cassette down to nothing listening to it over and over again and proceeded to go out and buy their entire catalog over the next few years.  Rik quickly became my favorite guitarist and still is to this day. His ability to incorporate different styles and fit them in with a hard rock band's music was amazing. Their music became my go to when I needed something positive in my life. There were countless days I would come home, put the headphones on, crank it up, and let the music just take me somewhere else away from the stress and pain of everyday life as a teenager.
Unfortunately, just a few years after I had discovered their music, Rik left Triumph to pursue solo endeavors and the band broke up soon afterward. Since disbanding, Triumph have only reformed for two one-off live shows: one at the Sweden Rock Festival, and one at Rocklohoma in 2008 (the former was released as a CD/DVD in 2011) and released a couple of greatest hits albums. Since leaving Triumph Rik has stayed busy musically and has put out almost twenty releases, received numerous awards, been inducted into the Canadian Music Hall of Fame, and has taught at Humber College in Toronto. 
While working on projects for Don't Let the Music Stop recently, the Triumph song Fight the Good Fight came on. This made me think of my youth and how much their music meant to me. I wasn't sure what the other band members were doing, but I do follow Rik on social media to keep up with his current projects. And he has a great reputation with being very open to his fans and interviews. I know how busy he is, but I really wanted the opportunity to at least say, "Thank you" for the music he has written and how much it helped me in my youth. So I reached out to him and I was able to say my thank you to him, and get an amazing interview in the process.
Although a lot of people may always link you to Triumph, you are, and always have been, very active musically. Including a discography of almost 20 solo and collaborative releases, along with a new album coming out in November with RESolution 9, entitled RES 9. What can we as fans expect musically from RES 9?
It's a rock band: kind of classic & retro at its heart (given that they're my songs, and I'm 63 years old), but very modern in its execution.  It features a lot of quality guitar playing, and what I hope folks will perceive as interesting lyrics.  The songs run the gamut from blues-y American rock to full-bore 70's style rip-roaring heaviness.  Lots of echoes of Triumph, and the roots I have – Clapton Beck & Page, mostly.  Still – what's the point of an album if the songs are not the main thing?  We worked hard to service the songs.
It's been released that RES 9 has some great musicians as guests on it including Alex Lifeson and James LaBrie. And it also features your former band mates Gil Moore and Mike Levine (who's Metalworks studio is where the album was recorded). Considering you have said you would be open to trying to do a Triumph reunion, how did it feel for you to be with the guys once again recording new material, even if it is just for this one release?
Just one song – one bonus track.  When you hear 'The Grand Parade', you'll understand that the song compelled me towards the idea of a studio reunion — the new song was driven by the fact that 'Suitcase Blues', a tune from the Just a Game album, way back in '79, was something that Gil & Mike embraced, even though it was a jazz tune.  This one's not so laid-back, but it's definitely got what I wanted — to catch up with old friends who knew me way back when.  It's a song about reminiscing on New Year's, and looking back, looking around, and looking forward.  It's about time, and friendship, and what it means to us all.
Are there any plans to support RES 9 after it's release this fall?
I'll do everything in my power to give the album a shot at the public marketplace.  We'll certainly do whatever touring the agents can put together that can earn us decent paychecks and not burn a 63 year old man out too bad.  The label is European, so that likely means at least two continents …
And, speaking of touring, you are doing acoustic duo performance shows currently with your long time collaborator, Dave Dunlop (RESolution 9, Strung-Out Troubadours). If someone is lucky enough to catch one of these shows, what can they expect to be treated to?
We play old Triumph songs, in duo arrangements — lots of the old fingerstyle guitar pieces rearranged for two guitars, as well.  We also try to throw in plenty of instrumental jockeying, and I am prone to some storytelling.  We take cracks and digs at each other.  It's a brotherhood thang.
You have stayed incredibly busy throughout your career with touring, recording, teaching, holding workshops, etc. What has been your driving force to keep you going in an industry that can be very trying at times?
Music is one of the very few things in life that speaks truth to me:  it is a truly liberal art, and it speaks to my spirit, my intellect, my connection to the universe.  Music is also one of the very few things in life that I'm fairly decent at, so – I work hard, and keep trying to get a bit better at it.  It's an infinite pursuit.  It keeps a dude humble.  But I like that:  it feels so satisfying, in the moment, when music transports me out of time, out of my body, out of my own limitations, and connects me to something deeper and bigger than little old me.  Like watching those kids at the Olympics, committing themselves body & soul to a moment of performance in time:  music offers that to every person, regardless of nationality, age — it transcends.  It is the most naturally supernatural thing I know:  so that drives me.  As Van Morrison once said – "Music is spiritual.  The music business is not." I suffer the latter to get chances at the former.
You are such a prolific guitarists and can, and do, play almost any style of music from jazz, rock, blues, singer-songwriter, classical, etc. It seems that each new release is an adventure into different territory for you. Is mixing things up and playing different styles a way of keeping things fresh, trying to expand your repertoire, or is there another reason you like to do something new with each release?
Well – thanks.  But I think I could be more prolific …  I wish I was. And I don't really seek to be 'different' purely for the sake of being different — that's just the way it works out. I guess that's just a result of my selective process:  I've always been eclectic, even as a teenager, playing folk coffeehouses, but also being in a hard rock band, and also playing jobbing gigs in wedding bands. I wasn't just a guitarist – I was also a singer, and a songwriter, and so that gave me a range of things to chase that maybe a lot of other guitarists might not.  Lots of musicians find that their way to make a name for themselves, and build a reputation, is to specialize.  I made a name for myself by being a triple-threat entertainer, and by taking on lots of different styles, without losing my own identity along the way.   I was in high school when FM radio thrived on album-oriented bands, doing eclectic things:  progressive bands gave their members a lot of personal freedom of expression.  The Beatles had shed the yoke of EMI and its expectations of 'singles', and everybody else followed suit.  That was the music business I got invited into.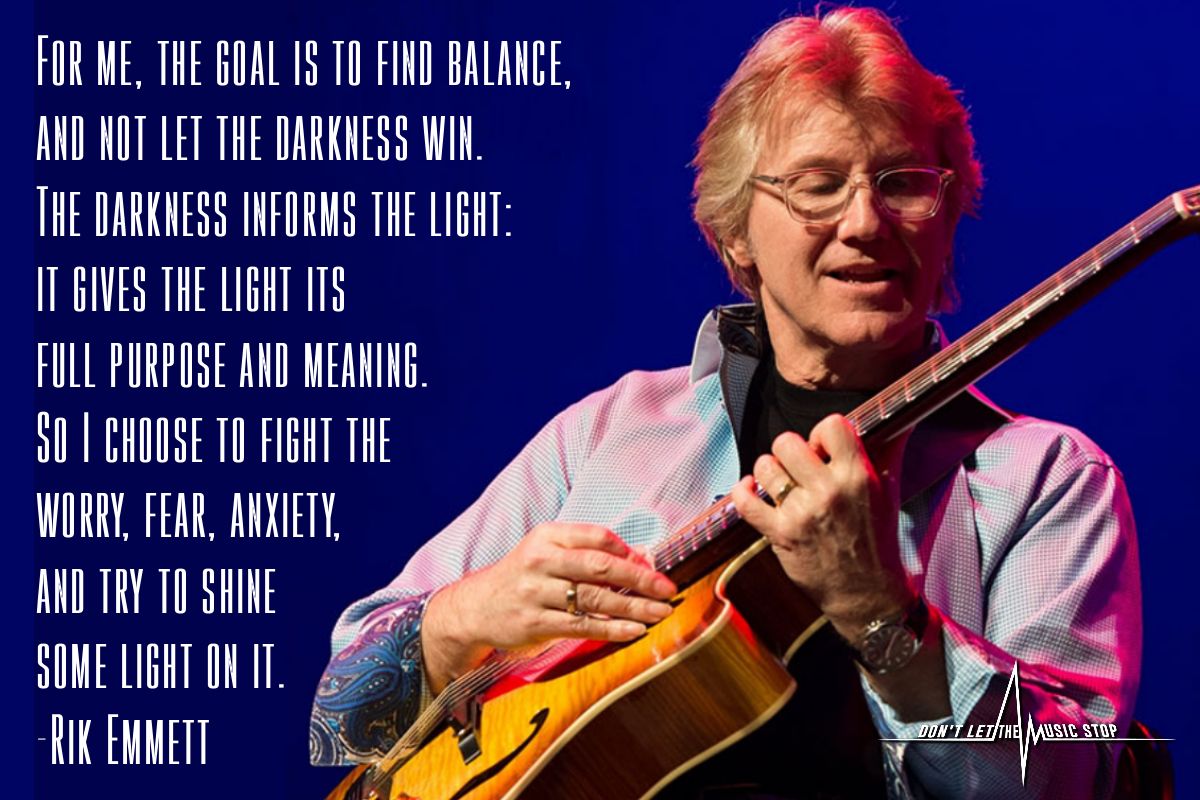 It must be a great feeling knowing that you have been able to do things your own way and on your own terms and have it be such a success. Have you ever been worried that trying so many new things and branching yourself out so much musically might actually hurt your career?
Oh, I think I probably did hurt myself some, in commercial terms.  A guitar magazine guy once wrote that I might be too talented for my own damn good.  I liked that quote – I used it in my bio.  I think, in rock & roll, some people feel like it's not ABOUT talent — it's about passion, ideas, attitude, and the closer one gets to a punk ethic, the more 'real' it is.  I can see that:  but it was never what felt really truthful, for me.  I liked bands that had talented people in them.  I wasn't a fan of bands that seemed to mostly sell attitude.  My personal truth was my collection of talents — which seem fairly modest, to me.  But they brought me opportunities.  I figured my job was to honor the gifts, try to take care of them, try to develop them, work really hard, and try to offer them to the marketplace, in a professional way:  to respect audiences and search for common denominators.
Have I ever been worried?  Sure – I worry a lot, about a lot of things.  I have fear, and sorrow, and anxiety.  I've known terrible grief.  But I also know what joy feels like, and the freedom of music as transportation & communication.  Self-expression can be deeply satisfying and enriching.  For me, the goal is to find balance, and not let the darkness win.  The darkness informs the light:  it gives the light its full purpose and meaning.  So I choose to fight the worry, fear, anxiety, and try to shine some light on it.
Stepping back in time, I grew up listening to Triumph as a teenager. Your music was not only amazingly well written and played, but featured very positive lyrics. "Hold On", "Fight the Good Fight", "Never Surrender", "Magic Power", and more. These were all anthems of my youth that I could relate to and gave me hope when I needed it (and still do). First off, thank you, and secondly, Do you feel there was a specific reason that your lyrics were so positive in nature?
Thank you for your support.  I think I probably needed to hear and play positive stuff, as much as the audience did.  I always felt that music needed to be made for more reasons than just partying, or engaging in a commercial transaction, to get paid.  I wanted songs to work on more than one level. I wanted lyrics that wouldn't grow out of date.  I always tell my students — offer people a great show, where they get their money's worth for the ticket they bought:  but also, offer them something that money can't buy.  At least – try for that.  Shoot for that.
Positivity …. well, I was in a band called TRIUMPH.  I didn't pick the name — I got asked to join a band that already had that name.  So – I think in many ways, I was trying to give the band some soundtrack that would live up to the name.  Once that had been established, it was something that felt fairly natural & comfortable to me.
And, while we are on the topics of lyrics. "Magic Power", along with other songs that you have written, talks about how music can get you through a bad day and troubled times. Do you believe that music can truly be a healing force? Or at least a way to escape, even for a limited time, the things that may be troubling you?
Yes.  Absolutely.  Music is therapeutic:  music connects to the brain in ways that we don't fully understand.  I don't think it's a fluke, that science fiction writers [Close Encounters] make music be the thing that connects human beings to alien species.  It is about vibrations of the cosmos …Music is so incredibly deep and diverse …. Bach … Debussy … The Beatles … Big band jazz?  Vince Gill?  … I can go on and on and never stop.  Music can defy politics, and exists outside of timelines, of our finite puny little existences.  It heals — but, of course, like all good and wonderful things, you have to allow it in.  You have to invite it in and embrace it.
What would you like to say to those out there that may be dealing with difficult times in their lives right now?
It's hard — but you have to try your best to listen when people tell you that that you're not alone, not the only one who ever felt pain and sorrow and felt overwhelmed.  You need a team of people to help you, and support you.  Let musicians be part of that team.  The thing about hope, and faith and love, is that they will work if you let them take you out beyond this moment in time:  to realize that this moment will pass, and to have faith in that thought — to have hope for a time that's coming, where you will know love.  If you listen to the music that speaks to your heart & soul, you'll hear that message:  you'll connect to that, and it will pull you back from the heart of darkness.
At Don't Let the Music Stop, we have a playlist that is comprised of songs solely chosen by those that we have interviewed as songs that have inspired them or that they go to when they need an escape or a "pick me up". Can you please give us a few songs that you go to when you are in need of some musical "therapy"?
Definitely, Debussy Préludes … the classical guitar music of Granados and Albeniz … So much of Pat Metheny's catalogue, but especially songs from Beyond The Missouri Sky (The Moon Song is one of my favorites) and First Circle (If I Could) … My brother recently passed away, and at his visitation, I created a playlist that had these songs, as well as everything from Beach Boys songs (Sloop John B, God Only Knows) to Larry Carlton's Alone But Never Alone, John Lennon's In My Life … one of my favorite uplifting songs is Something to Remind You, from the Pat Metheny Group CD, We Live Here.  It ALWAYS makes me feel good to be alive, and to be able to get to hear it.  😉
I want to thank you for taking the time to do this for me and my mission to inspire others. You music has truly been an inspiration to me, and it was an honor to be able to do an interview with you.
You're welcome.  My pleasure & honor.
If you have a chance to check out Rik and Dave or RESolution 9 at a location near you, please do. RES 9 is expected to be released late this year on Mascot Label Group.  To find out show dates, keep up on the  official release date for RES 9, or just see what Rik is up to make sure you follow him on your favorite social media platform:
If you are a musician, no matter your fan base, and would like to share your story or be interviewed by us, please use the contact form at the top of the page. We would love to hear from you. And if you are someone who has been helped by music in your life, we would love to hear from you also. We can help you share your story, publicly or anonymously. Your story could be the reason someone makes it through another day.
Never give up, never give in. You are needed, you are important.​​