Tony Furtado is an American banjo and slide guitar player, songwriter, and sculptor, who has been playing music for 30 years. He started out playing the banjo when he was a young boy, and his passion for music took off from there. He played and toured with many different musicians and bands during his early years, which helped his career to grow and got him started into slide guitar and writing songs. He loves playing live shows, touring all over the country, and even worldwide either solo or with his band, writing songs and making new albums. He started his own music label YousayFurtado Records which published his newest album, The Bell. Tony is a very talented musician and songwriter and I recently had the opportunity to meet him and see him play live here in Portland, Oregon. He is an amazing and talented musician, and just as nice of a guy, who so graciously gave some time out of his busy schedule for an interview. I hope everyone is able to listen to, and appreciate the music, and the musician that he is.
I understand you started playing the banjo when you were a young boy, starting with bluegrass and then expanding to other genres of music and other musical instruments. What made you decide to branch out to more than one musical genre and musical instrument?
I DID start on banjo, but I had no clue what Bluegrass was when I started. Then when my first teacher started me listening to Bluegrass to learn banjo, I figured that's what I was supposed to play if I wanted to play the banjo…but then right away he started me listening to other music to hear folks like the Eagles and The Nitty Gritty Dirt Band to see how banjo could be played in Rock, Folk, Classical or whatever! So I pretty much jumped in with eyes wide open. But it took me years to follow my other passions like slide guitar and songwriting…I kinda needed to get some years in as just a banjo player…it was fun and I had ideas of JUST playing banjo
When did your music career really start to take off, and what got you started as a professional musician?
When I was 18 I had been practicing banjo for about 6-8 hours a day studying jazz and classical music theory. I knew I wanted to be a professional musician whatever it took…I also was enrolled as an art major at California State Univ. Hayward, studying sculpting and sneaking into any music classes I could as a banjo player (they wouldn't let me be a music major or minor if I only played banjo). It was around then that I decided to enter the Grand National Banjo Competition…I won! I felt like that helped make a point to me and my folks that I was serious. Around that time I took a touring job as a sideman with folksinger named Laurie Lewis, I also secured a record contract with (at the time) the worlds largest indie label, ROUNDER RECORDS. That's when I knew my career started.
I understand that once your music career took off, you recorded 6 critically acclaimed albums and worked with and collaborated with some pretty big names in the music industry. That included Alison Krauss, Jerry Douglas, and you also performed with the band Sugarbeat, to name a few. Did working with these individuals influence or enhance your musical style, or motivate you to try new things? If yes, how so?
Those big names in the industry (Alison Krauss, Jerry Douglas, Tim Obrien etc) were pretty good friends of mine at the time…while they were big in the Bluegrass world, they hadn't yet reached the bigger audience they have now. We all were playing on the same circuit, hanging out on and off stage etc…I was just in my early 20's and I think folks were thinking I would kinda be the next "name" banjo player following Bela Fleck's path (so I was told)…pretty big expectations, but I was up for it! Problem was, I felt a little like a square peg trying to fit into the Bluegrass world – at the time there was a bit of a traditional sounding wave. That's when I was in a band called Sugarbeat…we were NOT traditional, in fact we were more of a pop/bluegrass/rock mix with a lead singer who was a Massachusetts folk singer influenced by rock and pop…we were a bit like Nickel Creek but 10-15 years before they hit the scene. Anyway, Sugarbeat eventually imploded leaving me wondering what to do next. That's when I decided to follow my dream of learning slide guitar and singing and writing songs…that's a whole other story!
You have, in total, about a dozen albums that you have put out over your career. Is there any one album that you are most proud of? Is there one that you found that you struggled with?
THE BELL, my newest is I have to say my best and the one I'm proudest of, and its NOT just because its my newest…its an album I had the total freedom to create as I wished. I think you can hear it in the music! Its also my most personal album…most every song is written about some very personal stuff like the passing of my father and the birth of my son. Id have to say that my favorite of my older albums would be Roll My Blues Away. It marked the changing of realms for me…from banjo player to "musician". Its when I added slide guitar and didn't just associate myself with being a banjo player. The tunes are strong and lively, and you can really hear the joy in what I found!
Speaking of YousayFurtado Records, what made you want to start your own music label? Are there other artists out there who have recorded under your label?
Necessity. I thought about licensing the album out but when that began to look a bit like a chore and that I would once again lose control, I decided I needed to (after 16 albums I released on other labels) go through the process myself and learn every step!
You have traveled worldwide playing in many festivals, venues, and different tours playing with your band, solo, or with other artists including the likes of Gregg Allman. What is it that you love about playing live music and touring? Is there anything about it that you don't like?
I don't like the traveling. I feel like sitting in a car or on a plane at this point is a waste of my life…and now that I have a young son, every minute counts. But – I LOVE playing live for folks, that will always be there! Its my job, you know, I think Ill always be a touring musician to some extent…it really is what I know best, and after 30 years of doing this, I know it pretty well.
What would you say is your favorite style of music to play? (you play anything from bluegrass, rock, country, blues, jazz and folk, if I understand correctly) And what would you say your favorite instrument is to play?
I really don't feel like I'm ever playing a specific type of music. Really I'm influenced by all those genres…and more. So when you ask what is my favorite style of music to play, I haven't got an answer for you…I love playing solo and folksy sometimes but I also like rocking out the songs a little when I have a full band. From time to time Ill sit in on a traditional Irish jam or a bluegrass jam, and that's fun! No pressure, just fun.
I also understand that you are an accomplished sculptor! What got you into sculpting, and what are some of your favorite pieces that you have sculpted? 
7th grade ceramics. I discovered I had a knack for making animals and things out of clay…its was easier than playing music for me…took me many years to get back into it after I quit college. But about 10 years ago I started getting back into it and teaching myself everything I would have learned had I stayed in school…now I have a studio, a kiln, and some fans of my sculpting who really don't know about my musical endeavors!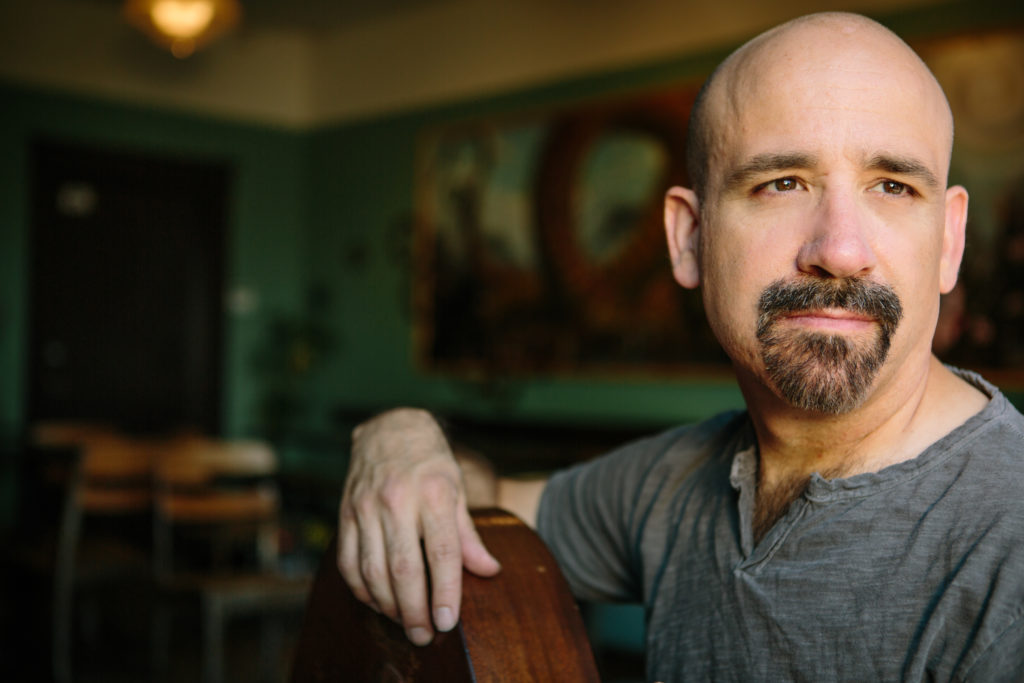 So many people rely on music, art, and personal expression to get through difficult times in their lives, as well as enhance the good times and positive events in their lives. Are there any moments, good or bad, in your life that motivated your musical expression? And sculpting for that matter too!
Sure, The Bell was basically me processing the death of my father. Golden and Deepwater had some songs of me processing some old breakups. Sculpting has just always been a great release valve from the stress of the music industry
Was there any time in your career where you felt discouraged and felt like giving up on your musical career? If so, what turned it around for you?
Well, that happens from time to time. I think most musicians (especially touring) will tell you that that is a pretty common thing to happen…feeling like throwing in the towel…in a way that very nearly happened just a few years ago when I decided to go completely independent. I was being poked and prodded in directions I didn't want to go, making albums I perhaps should not have made because they weren't from the heart and don't sound like me. Anyway, once I gained control again, everything changed. Its still VERY hard to keep doing this, touring, writing, recording, raising a kid with my wife…but I wouldn't trade it
At Don't Let The Music Stop, there's a playlist that consists of songs suggested from the different artists being interviewed. Do you have a song or two that means something to you that you would like to add to the list?
As for songs – from my new album, The Bell, I have a song called "Broken Bell" that is basically an empowering song I wrote and sing every show – basically me screaming back at the shadowy knuckleheads in the music biz
Also "Star" – a song I wrote for my son Liam who teaches me all the time what's most important in life
Thank you to Tony for taking the time to talk with us. Make sure you follow him on your favorite social media site:
https://twitter.com/tonyfurtado
https://www.facebook.com/TonyFurtadoMusic
http://www.youtube.com/user/tfhepcat
https://soundcloud.com/tonyfurtado
If you are a musician, no matter your fan base, and would like to share your story or be interviewed by us, please use the contact form at the top of the page. We would love to hear from you. And if you are someone who has been helped by music in your life, we would love to hear from you also. We can help you share your story, publicly or anonymously. Your story could be the reason someone makes it through another day.
Never give up, never give in. You are needed, you are important.​​