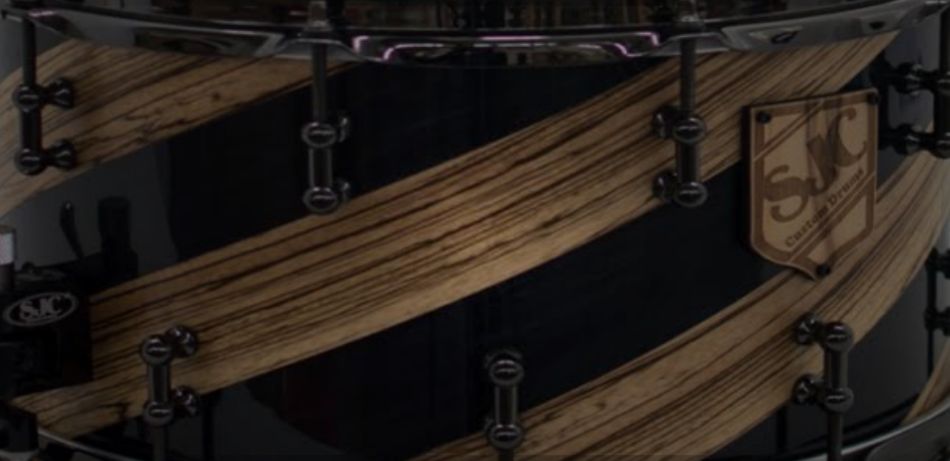 The first time I saw SJC Custom Drums, I was in love. Visually, the drums are nothing short of inspiring and once you're behind the kit, you realize what a master piece each drum really is. The drums are hand crafted in Southbridge, Massachusetts. From hand cut bearing edges to fantastic customer service, the company is proving itself unstoppable in the music industry.
Brothers Mike and Scott Ciprari founded SJC Custom Drums 16 years ago, making drum kits from scratch in their grandmother's basement. Today, SJC has grown into a monster drum company, with drummers in every genre. Punk rock giant Green Day, pop sensation Imagine Dragons, metal gods Bring Me The Horizon, country rock legend Eric Church…the list goes on and on.
But it doesn't matter if you're Lady Gaga or a hobby garage band; SJC treats all their artists with equal respect and dedication. Their quality, creativity and innovation, and artist based relationships are unrivaled in the drum world.
Mike Ciprari whole-heartedly agreed to talk with Don't Let The Music Stop. See what he says about building a company, the importance of perseverance, his advice for navigating the music industry, and staying focused on the positive in life.
For those people who don't know about SJC Custom Drums, can you tell us the background behind the company and how the business got started?
Yeah! So, my name is Mike Ciprari. I'm one of the co-founders and co-owners of SJC Custom Drums. A little bit of background is the company started in the year 2000. I was 15 years old and my brother was 16 or 17. And we both had played the drums for many years and you know, just had the Sears Catalog drum set in our house and wanted something new. And my brother started getting really into building drums from scratch. He first started by refurbishing his drum set that he had, that he found in my cousin's attic. That piqued his interest, you know? He got really into the fundamentals of actually building drums and 'What does a different bearing edge do?' and 'What does a different hoop (or whatever) do to the sound of a drum?'. Where I was really intrigued about, 'How can you make drums look different?' and 'Let's make something that's crazy.' There's a lot of custom drum companies out there now, but back in 2000 there weren't so many, you know, there was only a handful. And either they were really expensive or…you know, we just wanted to try and do something on our own.
So my brother started refurbishing drums and more and more people started asking him to refurbish their drums, from around town. Around 3 or 4 years later(we were just kids, it was a hobby) a few years later, I started to go on tour with my band and my brother was going off to college at the University of Southern Maine. So he built himself a drum set from scratch and also built me a kit to take on tour. I was in a band called No Trigger and we started touring around and we got signed to Nitro Records and toured with The Aquabats and a bunch of really cool bands. A lot of people started asking, 'What's SJC? What is that? How can I get a drum set like that?' 'Cause again, there weren't many custom companies out there, so… didn't have a website, didn't have an email or a phone number. We just used my cell phone and eventually made an email and became legit as the years progressed.
But that's kind of the longer/shorter story version of it, I guess. But yeah, that's kind of how the company got started and word of mouth started getting us more and more bands, you know… Panic! At the Disco, The Academy Is, Gym Class Heroes, The Receiving End of Sirens…all those bands are the first bands that joined SJC and helped create the brand and the name that we are now. So, pretty awesome!
How did you get into music? Playing drums?
I loved music when I was a kid and bought Green Day Dookie and I bought The Refused CD and 311… just, you know all the music…different types and styles of music that kids get into. You know, back in the 90's, it was those bands. So, when I heard 311 I was very intrigued with the drumming. I researched anything and everything that I could find out about 311. Obviously, [I] read that Chad Sexton was the drummer and became very interested in his drumming. He inspired me to pick up the drum sticks and play the drums…so, Chad Sexton's the reason that I started playing drums, for sure.
I got into music just 'cause it was an outlet, you know, it was something cool to do. I wasn't a sports guy, so music was my thing.
What is the process of making a custom drum kit like?
It varies, I'm sure, from manufacturer to manufacturer. But, for us, we have a 10 step process, here at SJC. It begins, obviously, talking with the customer/artist/drummer and finding out what they want and why they want it. We're not just 'cake decorators', you know, we're not just putting stuff together for no reason. We want to find out why the drummers want what they want. And we want to make that dream come to life, you know? From the look of the drum, to the functionality and the playability and how it sounds and all that sort of stuff, so it starts with that. We have sales people that talk to the drummer/customer and design what they want.
Once they order, it comes into our production facility and we start picking the parts and making all the materials that are needed. If they are getting re-enforcer rings or any custom hoops or a hybrid drum shell, those are made in the woodworking department. From there, it will go to finishing, whether it's getting a wrap or a paint or an inlay or stripes or a lacquer…from there it will go…I guess, part like 3 or 4b would be powder coating. So if the drum is getting a different color hardware other than chrome, we will powder coat it here, in house. All the finishes are done, in house. All the re-rings and the custom wood fabrications are done here, in house.
From there, it will go to bearing edges. This is one of the most important parts of the drum. This is where the bearing edges will get cut into the shell by hand, by our Master-craftsman Matt, who has been with the company for about 9 years now. So Matt will use granite slabs and sand paper and routers and stuff like that, to cut the perfect bearing edge for that drum, depending on how the drummer wants it to sound.
From there it will go into our CNC machine. Our CNC machine will cut all the holes in the drum, for the lugs and the brackets and everything from there. Then it will go to assembly. It will get fine tuned and all the lugs will get put together. From there it will go to get a photo taken of it, for our website and social medias. From there it will go to quality check, then packing, then it will get shipped out and on it's way to the end user.
How many drum kits do you think you have made, to date?
That is very hard to answer…I would guess…probably like 20 out a year for the first three years…I honestly don't know. I don't want to completely exaggerate it. I would say 10,000. We are doing about 900 [kits] a year now. So I would say that a good estimate would be approximately 10,000 drum sets and probably 10-15,000 snare drums.
What are some of the biggest artists playing SJC?
Tre` Cool from Green Day, Daniel Platzman from Imagine Dragons, Rian Dawson from All Time Low, Branden Steineckert from Rancid, Josh Dun from Twenty One Pilots, Jay Weinberg from Slipknot, Justin Nace from Pvris, Tomoya Kanki from One Ok Rock, Josh Manuel from Issues, Tatsuya Amano from Cross Faith, Cyrus Bolooki from New Found Glory, Craig Wright from Eric Church, Matt Kelly from Dropkick Murphys, Alex Shelnutt from A Day To Remember, Matt Nicholls from Bring Me the Horizon, Jake Bundrick from Mayday Parade, Andrew Cook from Dan + Shay, Spencer Smith from Panic! At The Disco, Nigel Powell from Frank Turner and the Sleeping Souls, Dan Searle from Architects, Danny from We The Kings…yeah, we've got some really, really cool artists that play our drums.
And even if you're not a huge artist, we treat everybody the same. We're really proud of all the artists that play our drums. Seriously, we try and keep everybody part of the family. No matter if you're on Warped Tour and selling out tours and stuff like that or just playing in your garage – you're all the same to us, you all start somewhere. We started somewhere – in a garage. That's our outlook and our motivation.
It is often hard to reach people in the music industry. How did you get the word out to so many bands about SJC?
Networking. I started, like I said, touring in bands and networking with different drummers. And that network just completely…it grows and it grows and it grows. You have to nurture those relationships. So, at this point, no it's not hard to reach out in the industry for us. We've got our hands out in a lot of different networks and [have] a lot of different contacts. It's just word of mouth and networking and nurturing those relationships. Those are huge, huge key points.
Do you feel that personal connections are important in the music business?
Absolutely, and that goes with the question just before this. Like I said before too, it's not just about selling a drum set and getting money and shipping the kit out. It's about nurturing that relationship and making that person feel like they are part of the family. And that goes for people who aren't even playing our drums. That's for our contacts that we have, whether its a manager, a booking agent, a drum tech, a guitar tech, the singer of the band, the tour manager – whoever it may be. You're going to talk to a bunch of different people in the line of work that we're doing. If you nurture those relationships, they'll bend over backwards for you and vise versa, so that goes a long way.
SJC is known for it's innovation and creativity. What are some ways that you stay inspired artistically?
Thank you! We're all artists here, whether you're a woodworker, or a drummer, or a painter, or an assembler, or just selling drums. And one way or another, in music, you're an artist. If you're in the music industry or if you like music, you have a creative/artistic bone in your body, so…don't let anybody tell you that you don't. For me personally, I take a lot of inspiration from, not only the music industry and art inside the music industry, but external, you know, outside. The world. Just going to different places, seeing a tee-shirt, seeing something on TV, or a guitar even, or a car. We've taken a lot of inspiration from cars and stuff like that, which is really cool. I just try to always stay inspired by thinking outside the box. [For example] I see a car…'How can that translate to a drum, atheistically.' So that's how I stay inspired, for me.
SJC has now been around for over 16 years. I am sure that it takes time, hard work, and dedication to not only establish a successful business, but to also continue to be invested in the company's growth and future. What is your advice on running your own business?
Oh man, I could talk about that for an hour plus…or probably a day! Really, running your own business…do what you're passionate about. Like you said in this question itself, it takes a lot of time, hard work, and dedication. So be dedicated. Make sure you're going to be ready to give the hard work and the time that it takes. You're going to have to sacrifice a lot of your personal life to start and run a business. Not everybody can be an entrepreneur, but if you've got that DNA and the drive, then you are absolutely able to accomplish whatever you want. Don't let anybody tell you that you can't do it. Find good people to be around you – partners and people that you can ask for their advice. Stay inspired – find what inspires you. Really, it's a long winded answer, but those are my main points, I would say: Be ready for the hard work and be ready to set goals for yourself and don't go to sleep until you accomplish those goals. And nurture relationships and network, like I said earlier.
What part does perseverance play in your outlook?
Everything. You know, this ties into the question that I just went through. If you don't persevere through the hard times…
Look at Green Day, for example, they are a huge band right now, but not a lot of people now can even think or relate to when they started out, 20 something years ago. They were touring in a band, playing in a VFW Hall or a garage in front of 10 people. But they persevered through it, and look at them now! They've been inducted into the Rock and Roll Hall of Fame, they've got massive records, they sell out huge arenas, Tre` Cool is one of the most influential drummers out there.
I'm definitely not comparing SJC Drums to Green Day, we are two completely different animals in the industry altogether…(Green Day is way bigger than SJC is) but same with us. If I didn't persevere through the hard times, and not being able to pay bills and not knowing what the heck I was doing… I figured it out. We figured it out as a team, my brother and I. We persevered and we were able to stay afloat and make it this far, and we'll continue to do that. If you don't persevere and you give up, then your dream can never come to life.
When going through hard times in life, did you look to music to help you heal?
Absolutely. I looked to music for everything in my life and that's why I kind of just engulfed myself in it. Whether it was playing in a marching band in high school or just listening to it when I got home, or playing the drums…it's therapy. Music is the universal language. I feel like music gets a lot of people through a lot of difficult times and fun times. I think music altogether, for many people in this world, is a healing mechanism, which is awesome.
What are the bands that got you through those hard times?
Man, so many different bands. Whether it was 311 (like I mentioned earlier) just to like relax and chill out…or Refused when I was angry, listening to some crazy punk music. Strike Anywhere, a really political band that has a really great outlook on politics and the way that the world should be. Strike Anywhere was one of my favorite bands when I was a kid. Propagandhi, another really great political band. I'm not super political, but those bands have a really great outlook on life and they are very positive in that. And Slipknot! If you're angry and you just want to listen to some metal and drive around, then Slipknot!
What advice do you have on the subject of following your dreams?
You know, I touched upon that a couple times now, but just that – follow your dreams. Don't let anybody tell you that you can't do what you want to do. If you're passionate about it, you know, even if there's not a market for it…you don't know if there is, if you don't try. Whether you're trying to start a band or a company or whatever it is, just follow your dreams and do everything you can to succeed because you're the only one in your way. Going back to the perseverance…persevere! And you know, life's going to be rocky. The course of business and being in a band or whatever it is you're trying to do is going to be rocky. There's gonna be good times, there's gonna be bad times…but persevere through it all.
What would you tell someone who is struggling and hurting in life?
Same thing. Go back to the perseverance. Persevere. Always look at the positive because there's always a positive that you can pull from any situation. There's always a lesson to be learned. Whether you're religious or not, things that happen to you are preparing you for something else in life. So if you're struggling and having a hard time with something, just know that you're not alone. You can talk to people. There's many different ways to do that. You can go to therapy, you can see a psychologist, you can meditate, you can play the drums or the guitar or whatever instrument you're trying to play. There's always a positive way out. So don't give up and talk to somebody.
One of our drummers, Branden from Rancid, is a huge proponent for suicide hotlines and stuff like that. There is always somebody to talk to. Whether its a friend or a stranger, you know, make a new friend by doing something like that. That's pretty rad.
Don't Let The Music Stop has a play list of songs that are chosen by the interviewees. Is there a song (or two) that has helped you get through a rough time that we can add to the play list?
Yes! I will probably rattle off a couple extra, but I've got some really good ones that I listen to, that have gotten me through tough times.
I mean, the Beach Boys, Good Vibrations, that's a really good one. Just kind of sit back and just chill out…like the song says, "Good Vibrations".
Switchfoot, Meant to Live, that's a good one.
A band called Enter Shikari, all their songs are amazing, but they have a song called Constellations that is just awesome. Really, really great song. I like to drive and listen to that when I'm bummed out or stressed out, or whatever.
There's also a band called Dawes. Definitely much different band than Enter Shikari, but they have a really amazing song called A Little Bit of Everything, and actually Tre` Cool showed me that song. I mentioned that I listened to a lot of Refused or Green Day or 311 when I was a kid, but recently those are the two songs that helped me get through tough times. It's pretty cool that Tre` showed me that song, because he likes to drive to that song and chill out, as well. So, pretty cool!
Anyways, thanks for reading and I appreciate all the support. And Austin, thank you for the support of SJC over the years. If anybody does want to talk about music or has any other questions on being an entrepreneur or starting a business or anything, please don't hesitate to reach out to me. Feel free to email me any time, its Mike@SJCdrums.com.
Keep following your dreams! Thanks so much you guys.
Thank you so much for taking the time to talk with me!
Make sure you check out Mike and SJC Drums and follow them on your favorite social media site:
Official Website:  http://www.sjcdrums.com/
Documentary Video about SJC:  https://www.youtube.com/watch?v=NkIkXTEtSYI
SJC Facebook:  www.facebook.com/SJCdrums
SJC Twitter:  www.twitter.com/SJCdrums
Note from Randall: would like to send out a personal thank you to Austin Harras who set up and completed this interview for Don't Let the Music Stop. His unwavering support of what has become our journey has been so inspiring to me on a personal level. I truly appreciate everything that he, and so many others, are doing for no other reason than knowing that they might make a difference in someone life. 
If you are a musician, no matter your fan base, and would like to share your story or be interviewed by us, please use the contact form at the top of the page. We would love to hear from you. And if you are someone who has been helped by music in your life, we would love to hear from you also. We can help you share your story, publicly or anonymously. Your story could be the reason someone makes it through another day.
Never give up, never give in. You are needed, you are important.​​